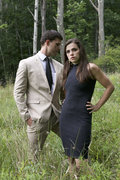 Today I'm joined again by two members of the Blacksmiths' Daughters - Julida and Sean Alter. This husband and wife team have now collaborated to form their own band, simply called Julyda. They've just released their first EP together, 'Do You Hear Me'. 
In this episode we talk about the creative journey behind the formation of Julyda, and the EP itself. It's a powerful story, about faith, social justice, doubt, and mystery - which in many ways sums up the journey we'll all on, individually, and cooporately, in the world today.
We also explore the creative process behind the album, how we find our voice, how we can tell our unique stories in our art and how creating and engaging with music, writing and other forms of art can touch us and speak to us in unique and intimate ways. 
You can find out more about Julyda and hear some of the songs from their amazing new EP at www.theblacksmithsdaughters.com/julyda